Back to top
News and Announcements
WTHS Marching Band Accomplishments for the Week of 11/01/2019

On November 1, 2019, the WTHS Marching Band performed at the Burlington Twp. HS Football game. The Band played in support of the Varsity Football Team and also performed during the pregame celebration.

On November 2nd, the WTHS Marching Band competed at the Atlantic Coast Championships held at Central Dauphin HS in Harrisburg, PA. The Band came in 5th Place outscoring 17 other Group 2A Bands from NJ, PA, DE and MD. They scored a season high 89.3. This event concluded the 2019 Marching Band season.

Board of Education Marketing Committee Meeting Minutes - October 2019

The Board of Education Marketing Committee is preparing a number of activities for the 2019-2020 school year. The minutes of the most recent meeting are attached for your review.

WTHS Marching Band Accomplishments for the Week of 9/14/19

On Saturday, September 14, 2019, the WTHS Marching Band competed at the Gateway Regional HS Competition. The Band placed 2nd with a score of 78.1 beating rival Pennsauken HS by 9 points in Group 2A. The Band also won their first Best Color Guard Award of the season.

Winslow Township HIgh School Drama Club Announcement
Township of Winslow Community Resources and Events

The Township of Winslow is pleased to bring several services to benefit community members. Please see the attached flyers. In addition, the Township is proud to offer a free sports recreation program called the "All-Star Program". The All-Star Program is a community-based buddy sports program for children with special needs.

2019-2020 Back to School Informational Packet

Attached, please find information pertaining to the 2019-2020 school year.

2019-2020 Welcome Back Letter - School Opens Thursday, September 5, 2019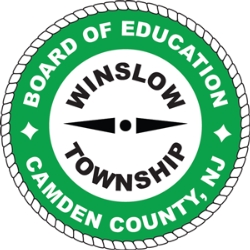 Dear Parent/Guardian:
As we prepare for a new school year, I look forward to the new and exciting programs we have in place for our staff and students. We have been busy this summer painting and making repairs in our schools and two major projects at the High School are underway.

2019-2020 Free & Reduced Lunch Application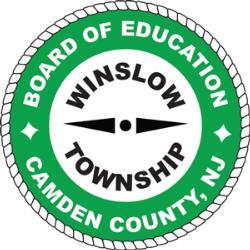 The NJ Department of Agriculture Bureau of Child Nutrition Program has released the 2019-2020 Free/Reduced Lunch Application.

2019-2020 District Calendar

For your reference, below is a copy of the 2019-2020 District Calendar approved by the Board of Education at its meeting on Wednesday, February 27, 2019.

2019-2020 Budget Presentation

The Winslow Township School District 2019-2020 Budget was presented at the Board of Education Meeting on May 1, 2019. Please select the link to view the presentation.